This store requires javascript to be enabled for some features to work correctly.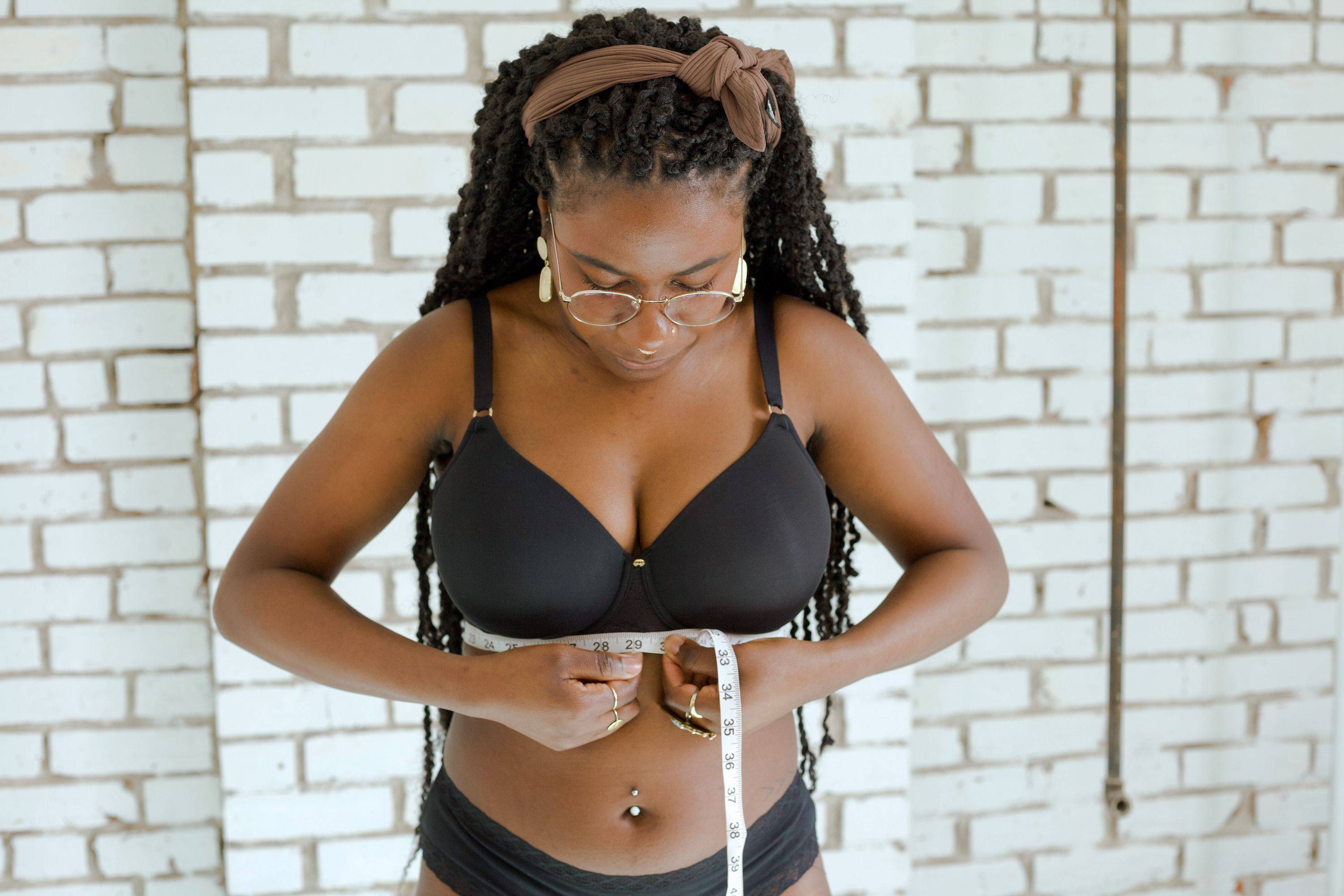 FIND YOUR UNDERBUST MEASUREMENT
While wearing your best fitting, non-padded bra, wrap the tape measure just under the breasts. Take the measurement after you've expelled all the air from your lungs. You will want to cinch the tape tightly as you want this number to be as small as possible. Round any fractional numbers up (31.5=32, 34.5=35). This is your underbust measurement.
---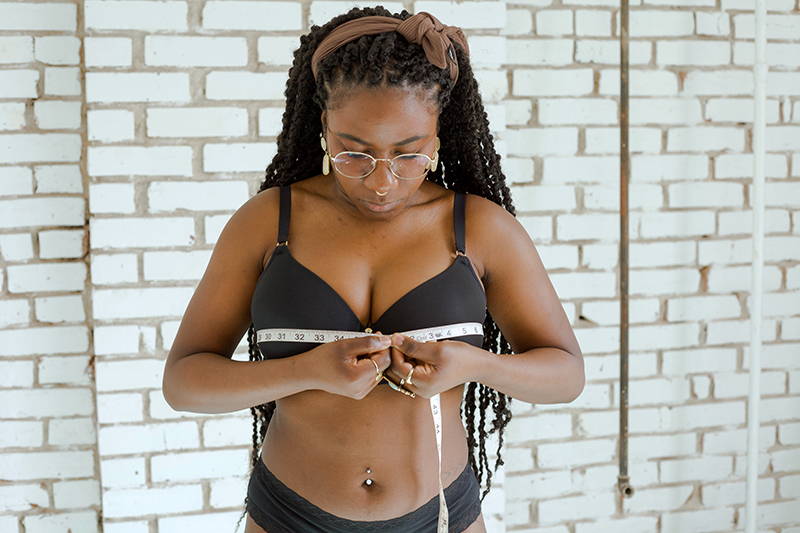 FIND YOUR OVERBUST MEASUREMENT
With the tape parallel to the ground, wrap it around the fullest point of your breasts.

Typically is at the nipple or slightly above.

Make sure that the tape is taut but that it's not cutting into your breasts.

Round any fractional numbers up (31.5=32, 34.5=35). This is your overbust measurement.
| | |
| --- | --- |
| Your Underbust | Your Band Size |
| | |
| | |
| | |
| | |
| | |
| | |
| | |
---
Subtract your band size (see above chart) from the overbust measurement found in Step 2. The difference between these numbers will indicate your actual cup size via the chart below.
CONFUSED? HERE'S AN EXAMPLE
Your underbust measurement is 32". According to the band chart this makes you a 34" band.

Your overbust measurement is 36".


If you subtract your band size from the overbust measurement you will get a number that correlates to your cup size. 36" - 34" = 2" difference. According to our chart your a 34B.
---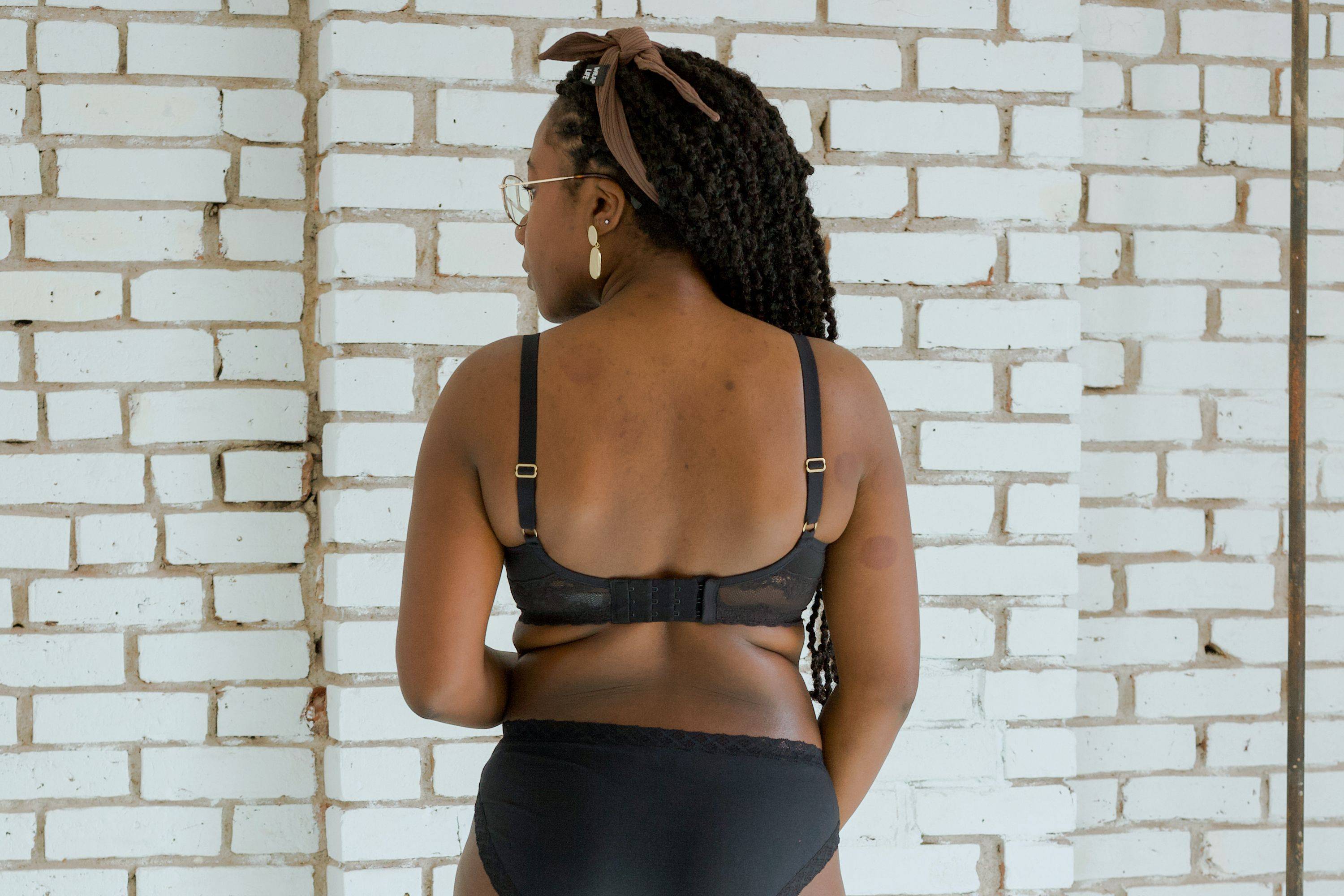 TIPS FOR FITTING A PROPER BAND
Loosen your bra straps and bring your bra down to just above the small of your back. Your band should fit comfortable but snugly when hooked on the outermost hook. To know that your band fits, run one of two fingers between the band and your back. If you can barely fit one, it is too small. If you can fit more it is too big. A snug, lower fitting band will alleviate the pressure on your straps by providing a source of support from below the breasts.
TIPS FOR FITTING A PROPER BAND
Wearing a bra lower on your back will help eliminate "back bulge" and create a smoother silhouette. Buying a bra with the large back band to eliminate bulge will only cause your band to ride up creating a lumpy effect in the back and a saggy effect in the front!
Fasten your bra on the loosest hook. As the elastic stretches you will be able to adjust the size by moving to the middle hook and then to the innermost hook to extend the life of your bra.
TIPS FOR FITTING A PROPER CUP
The cup correctly when the center of the bra is tacking (laying flat) against your sternum and separating your breasts. Your Breasts should completely fill the cups, there should be no "double boob" or gapping between the cup and your body.
Always remember that the cup size is dependent on the band size. As a band gets bigger, so does its cup. For example, a 34B cup is BIGGER than a 32B cup and SMALLER than a 36B cup. If you change your band size, usually you must also change your cup size.  
Remember, don't be intimidated to try new band and cup combinations. Focus on the fit and not the numbers and letters!
COMMON PROBLEMS AND SOLUTIONS
The straps on your bra are always slipping off of your shoulders and your band keeps riding up in the back.
Solution: Try a bra that's one band size smaller and one cup size bigger (for example if you wear a 36B, try a 34C). A tighter, more secure band will help keep your straps in place.
Your bra sits off of your sternum or your breasts are being squeezed together in the cup.
Solution: Your cup is probably too small. Try going up a cup size (or sometimes two!) but do not change the band size.
There is space or "gapping" between the cup and your breasts.
Solution: Try a smaller cup size which will lift the breast and fill out the top of the cup. A tighter band will also help with this.
You have large breasts and are feeling unsupported by your bras.
Solution: Try going down in the band size (sometimes two sizes if necessary). If you've been wearing a 34 D try a 32 E (also known as a 32DD). A tight band will lift and support your breasts from below taking the pressure off your shoulders.
You like how the cups on your bras fit but the band is too tight.
Solution: Try going up a band size and down a cup size. For example switch from a 34 D to a 36 C. The cup will fit the same but the band will be looser.