This store requires javascript to be enabled for some features to work correctly.
Like Mother, Like Daughter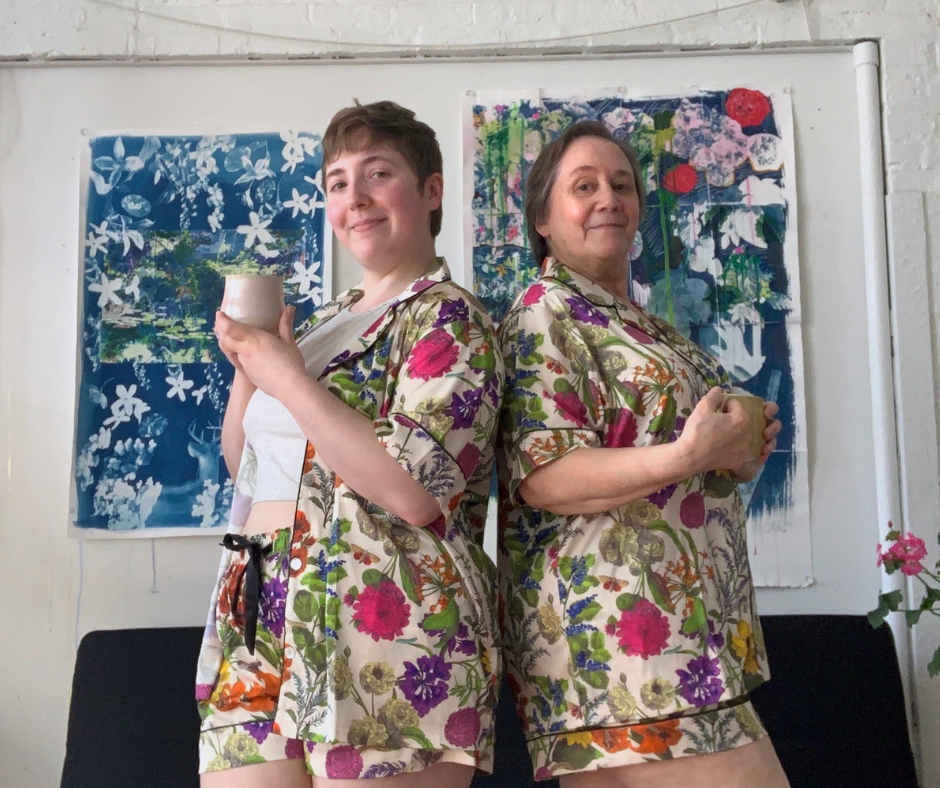 Susan and Skye Murie blend into the studio scenery in their Kilo Brava x Forty Winks Botanical PJ Sets.
More about artist Susan Murie:
"I worked for many years as a gardener in both formal public spaces and private settings and this close interaction with nature has informed my art work, most recently with cyanotypes. My current work is inspired by the ephemeral in nature and relationships, the disrupted, overgrown landscape and flowers. I assemble my cyanotype prints with my chosen motifs from images I have photographed. Why cyanotype? The resulting luminous image almost always reveals something new about the subject and leads me forward. Due to the unpredictable nature of the process, each print has its own outcome. This uncertainty is a welcome part of the work. Each is one of a kind, made by hand in my studio, on a variety of light sensitized fine art papers. I most recently exhibited In October 2021 in the 22nd Annual Frances N. Roddy Exhibition at the Concord Art Center where my piece received a prize awarded from juror Sam Adams."
> You can find more information about Susan on her website here.
Susan isn't the only artist in the family! Her daughter Skye Murie is a theatrical producer, director, multidisciplinary visual artist, and illustrator. She is interested in telling stories that deal with issues of feminism, friendship, family history, intergenerational trauma, queer identity and belonging. These concepts are often explored through shadow puppetry, theatrical adaptation, new play development, Design Driven Performance, and devised theatre. Most recently, she worked with fellow Forty Winks staff member, Ellie Brelis on a one-woman show, Driver's Seat. The production was written by Ellie Brelis and directed by Skye Murie.
Skye and Susan are wearing the Kilo Brava x Forty Winks Botanical PJ Set, a Kilo Brava original print exclusively available at Forty Winks. They both wear a size XXL.