The Middle Layer: Basil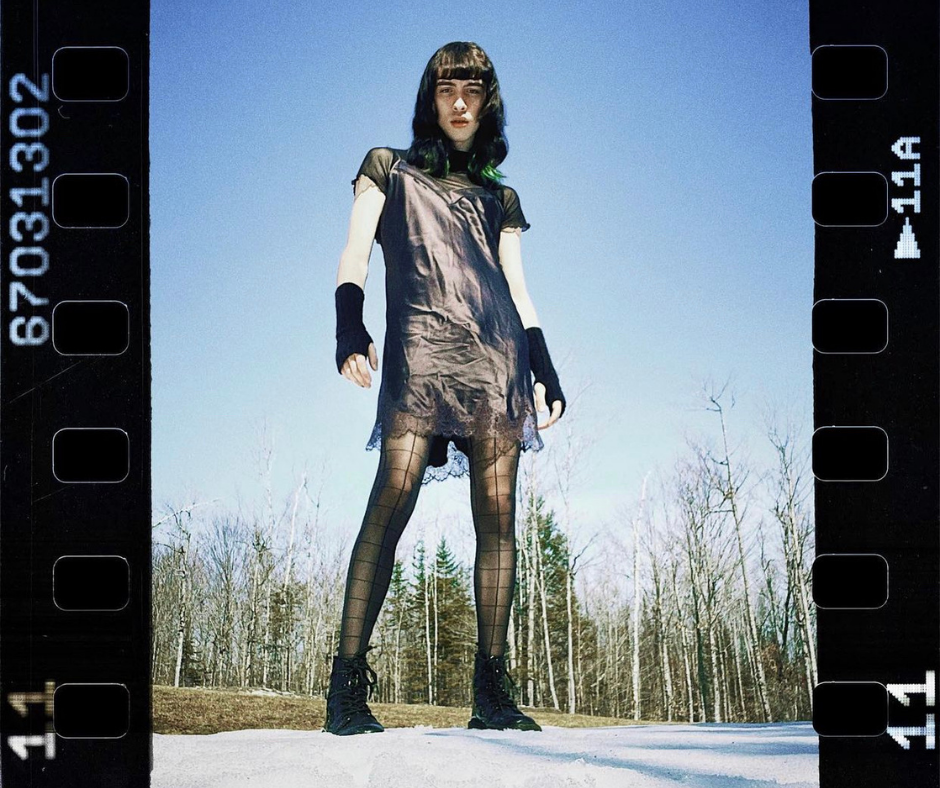 Meet Basil, he/they/she. Here to remind us that life is ✨your own✨ fairytale!
A note on lingerie, as told by Basil:
I love frilly and lacy things so I am always trying to implement undergarments into my outer garment wear. I think it's important that we start merging outside with the inside to truly break the gap between what we keep on the inside; to explode on the outside. 
⚡️Lightning Round⚡️
Coffee shop order - I don't drink coffee, so it's usually unsweetened green tea with lemon, a medicine ball (even when I'm not sick), or a star drink from Starbucks. I love kiwi and lemonade.
Astro Sign - Fluid-pearlescent Cancer
Article of clothing that makes you feel most powerful - Nothing makes me feel more transcendent than a huge collared blouse combined with a leather harness or a spiked choker!
Current music obsession - I could give you a big list; I always have so many different people playing at once. I think it's really important to expand your palate of what you listen to. Right now I am jamming to Strawberry by DOSS, and my forever obsession is Caroline Polachek. With her recent release Billions! Truly a masterpiece! I also listen to tons of Kpop; right now Sherlock (clue+note) by SHINee and RUN2U by the girl group Stayc are my main plays. (so much for a rapid-fire questionnaire!).
Night owl or early bird - Night Owl; I am always creating and formulating at night.
Tell us a little about yourself!
I am an all-around creative! Anything I can get my hands on, I do. Currently, drag is my main passion. It encapsulates a lot of my passions; putting together looks and making a story.I've always been one for creating a story and characters. Ever since I can remember I've been enamored by Grimm fairy tales and the way they're illustrated. My love of doing characters bloomed even more once I found my true love of theater and through drama, I found my love of costuming. Being able to curate costumes for characters as I see fit helped me in what was to come with drag. Everything comes back to me expressing my voice and my love for fantasy. 

You're in your first year of college, how has it lived up to your expectations? How has it fallen short?
It's opened my mind to what I really can do. My first plan was to be an art teacher, but it's not the only option in front of me, like any other plan). 
 
It's helping me gain a footing. It's letting me work on my skills of being alone and finding comfort and confidence in myself. It's an experiment in independence. 
 
As far as expectations go; sadly it's not everything I glamourize it up to be. That's not necessarily a bad thing. It's just a shame that we don't have all the art courses I am looking into pursuing. On another note that opens the gates to explore other paths. Life is an ever-flowing river that can form new paths ever right as you're about to swim into a different one. I'm always open to change. 
As a genderfluid, lover of fashion, what would you like to see more of, especially in the world of lingerie? 
I think our first thing to tackle is making panties more accessible to people with different genitalia. As much as I'd love to wear frilly panties; they just don't make them for people like me. Other than that I want a movement that references and modernizes Victorian undergarments. I love frilly and lacy things so I am always trying to implement undergarments into my outer garment wear. I think it's important that we start merging outside with the inside to truly break the gap between what we keep on the inside; to explode on the outside. 
What is your dream lingerie ensemble? 
My dream starts with a lacy corset top with pearl embellishments with a matching panty. Over it is a sheer slip with different tears to break it up. On the sheer slip though would be little crystals that would catch the light when you walk; like dewdrops on leaves in the morning. I think it's important to wear shiny stuff whenever I can to show how shiny I am on the inside. On my legs, I would have matching tights that would also have lines of pearls on them (almost like those glitter tights you see drag queens wearing all the time). And of course, how could I not mention the garter strap that would also be there to hold up the tights! That would be lacey as well (duh!!!).  The color scheme for the whole thing would be olive green with nude peach accents. Any woodland nymph's dream. 
Who are your major influences and inspirations? 
My biggest inspiration is Caroline Polachek. Her way of crafting visual and sonic worlds is like no one I've ever seen before. Every performance she gives is like a play. My life turned 180 when I first listened to her solo debut album Pang for the first time. The song that struck a chord with me from that album is Door. When I first heard the lyrics "You open the door, to another door, to another door, to another door…" It opened my eyes. It reminded me at a time when artistically I was having a dry spell; that I really could do anything I put my mind to. That no matter what door you may see in front of you; you truly have the power to push it open. This is my life and this is my fairytale. 
Another influence of mine is Allie X, a Canadian-American electro-pop singer. Her music explores identity a lot and I found my harder shell with her. Her most recent album Cape God is where I found my place in my east coast life. Her visuals let me see how absolutely rich and beautiful it is here, how lucky I am to live in a place like this - having little secret hiding places and being able to play in the woods. 
This album also brought me solace. It showed me a broken, undiscovered, and still juvenile side of myself. It showed me that my experiences in life can define me, but that they don't have to trap me. I think it's important for people to have things that bring them peace.
Lastly, Lorde. Lorde has been there for me since the beginning. She is truly my nostalgic artist. She never stops reinventing herself, while still being conscious enough to reference her past and reflect on the future. There is not a song of hers that I don't connect to a specific moment of my growing-up experience too. Her music just gets me. 
I think our fantasies can be our realities and that creating worlds is sometimes the best thing we can do to solve our most inquisitive questions. I am forever morphing, bubbling, regressing, progressing, and expanding. The people I look up to, whether it be my family or artists, always inspire me to continue. 
Thank you, Basil! For this shoot, Basil is wearing the Simone Perele Nocturne Slip Dress and Underprotection Dita Shirt.
---
---