The Middle Layer: Leah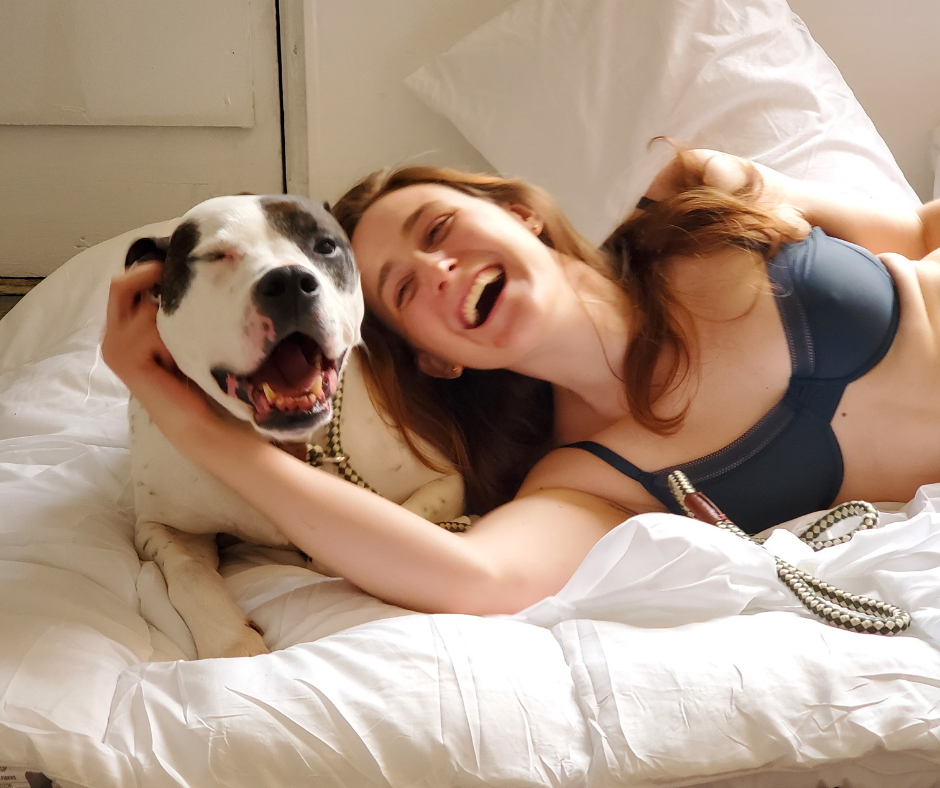 We're so excited to catch up with Leah, a dog-loving, lingerie-loving, soon to be med student who inspires us daily!
A note on lingerie, as told by Leah:
Lingerie is for me like making your bed in the morning. When the first things I put on my body are intentional and cohesive, I feel like I have my act together. Wearing high-quality, well-fitting lingerie - both in the daily decision to put it on, and in each careful decision when buying it - is one way I reaffirm the deservedness and worthiness of my body, my self. This might seem anachronistic to some; if my body is enough, why do I need lingerie to adorn it? Because each morning that I put on something that I find beautiful, I'm deliberately choosing to not hide from myself. I opt not to hurriedly throw on something that means nothing to me and might pinch or pull at me throughout the day, not to get away from my body as soon as possible. I choose instead to reflect on the marvel that is my body, to wear something that will quietly celebrate me and keep me comfortable. I choose to start the day knowing that on the most basic (albeit material) level, I have seen myself.
⚡️ Lightning round! ⚡️ 
Coffee order - I've been making my own matcha lattes at home for the last several months! I buy Mem Tea premium matcha by weight from Cambridge Naturals (an amazing deal), whisk it up with 180 degree (F) water, warm up some oatmilk, and enjoy it in my favorite mug from Vermont potter Jeremy Ayers. It's a morning ritual that anchors me and is delicious.
Astrological sign - Scorpio, I think?
Last book you read - "The Song of Achilles" by Madeline Miller will, in the words of my friend, "tear your heart out and put it back in with one line". 
Biggest self-care indulgence - Other than lingerie? Camberville-area coffee shops.
Green thumb or black thumb - Green! I can't wait to transform my new apartment into a jungle. 
Tell us a little bit about yourself!
I'm a former clinical researcher, current doting aunt and dog foster mom, and future medical student. I've been working at Forty Winks on and off since finishing undergrad - you might know me from the original weekend "Invenstories"!
Why did you decide to start fostering pups?
My boyfriend and I both love dogs, but ownership isn't in the cards right now. Fostering can seem scary to some because of the fear of getting your heart broken, but the support we get from fellow fosterers is amazing, and the cuddles make it well worth it. 
We know that being active has always been important to you, what does that look like for you these days?
Finding a way to enjoy movement has been crucial to my well being. I love to hike, but my current and more regularly accessible mode is long walks with my foster pup throughout Cambridge/Somerville. We'll stop at Albertine Press or Tiny Turns Paperie to grab a "just because" card for a friend, or meet up with someone on the Somerville bike path. 
What are some of your greatest joys/simple pleasures?
Cooking gives me a mental change of pace. It's a way to be creative - and to be always, always learning - while also getting to work with my hands instead of just being in my head. To those who say they "can't cook": just find a simple recipe (I love Melissa Clark's "Dinner", but eggs and toast are a limitless canvas for all levels) and make it a few times over the course of a month until it starts to feel more comfortable. Don't expect yourself to cook a new dish every day; start small. 
P.S. Toast a slice of bread and fry an egg sunny side up, sprinkling some grated parmesan to melt around the edges. Swipe a scant bit of mayo onto the toast, roughly chop some of your favorite kimchi, and layer it on the toast with the egg on top. Boom. P.S. Reliable Market in Union makes large quantities of vegan kimchi!
Who inspires you (both IRL and famous/fictional) 
Fictional: Cimorene from "Dealing with Dragons" by Patricia E. Wrede. That's one of those books from my childhood about which I'm not sure if I'm sad or happy that it was never made into a movie. 
Real-life: Real-life inspirations are tough because I don't intend their being a source of inspiration to assert that they are perfect. I think that the people I am most wowed by are those close to me, whose strengths and struggles I know and whose personhood I can revel in in close proximity. Alison, Mike, MC, Rachel, the multiple Hannahs in my life…you amaze me!
What are your favorite pieces of lingerie past and present and what makes them *special*?
Oh boy oh boy. The Ziggy set from Else. Bet you didn't know that under my office wear I'm cocooned in perfectly fitting and supportive silky softness! Any of my multiple Natori Feathers bras are beautiful, go under anything, and say "ta ta!" (hehe) to the stereotype of the boring t-shirt bra. The Chantelle soft stretch hipster (high and low rise) disappears under my pants without disappearing elsewhere. And the FW Ease cami and brief; I'm wearing it in Quartz right now! The cami gives me just the hold I need to avoid wearing an extra set of straps. The new Nano set from Else will help give my beloved Ziggy set some rest; the Nano is smooth and elegant, a simple celebration of myself that I can wear any day.
Thank you, Leah! For this shoot, Leah is wearing the Else Nano set in French Blue. Find more of Leah's favorites below!
Chantelle Soft Stretch Hipster
---
---